Inspiration for Executive Chefs


APPETIZERS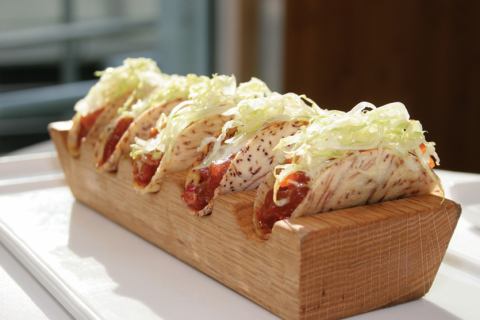 Tuna Tacos

Chef Douglas Rodriguez

Ola at the Sanctuary Hotel
Miami Beach


Tuna tartar with garlic aioli and malanga tacos

(Serves 2)

Tuna tartar
8 ounces fresh tuna (diced very fine)
1/2 jalapeño, small dice
Salt to taste
Crispy shallots
1 tablespoon smoked paprika
2 tablespoons lemon oil
1 teaspoon muscatel vinegar

In a small bowl place all ingredients and mix until well incorporated, reserve.

Roasted garlic aioli
8 cloves of roasted garlic
3 tablespoons muscatel vinegar
1 tablespoon fresh minced ginger
1 tablespoon lime juice
1 whole egg
½ cup vegetable oil

In a blender cup place all the ingredients but the oil.
Mix everything in a medium speed, add the oil slowly until well incorporated.

Malanga tacos
2 each medium malangas, sliced in thin rounds 1/8 inch thick

Place in taco molds and deep fry until golden brown.

To serve
1 cup iceberg lettuce finely julienne

Place the tuna tartar in the malanga shells garnish it with the iceberg lettuce and top with a small amount of garlic aioli. Top with pickled jalapeño slices and iceberg lettuce.


Inspiration for Executive Chefs