FAVORITE RECIPES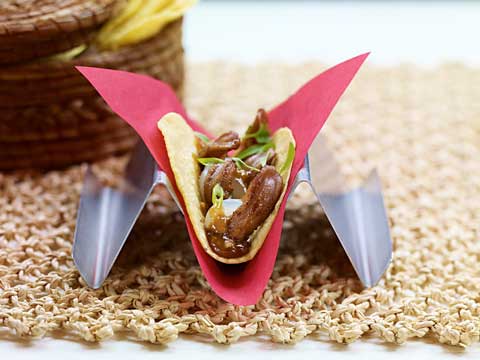 Taco Silencio (Duck Tongue)
Chef Jose Andres' Think Food Group
China Poblano at the Cosmopolitan
LAS VEGAS, NV
[Yields around 10-12 tacos]

INGREDIENTS
[Duck Tongue]
2 lb fresh duck tongue
4 qt chicken stock
4 qt water
280 grams dry Chinese red dates
80 grams dry wolfberries
8 grams dry arbol chili
320 grams green onion
80 grams ginger
4 tsp kosher salt

METHOD
Combine all ingredients, except duck tongue. Simmer for 1 hour and strain out the solids.
Keep broth at simmer; poach duck tongue in broth for 15 minutes. The tongues should be tender and the soft bone inside should be easily pulled out.
Allow tongue to slightly cool down in the poaching liquid, when they are cool enough to handle, pull out the bone from each tongue, save poaching liquid for fragrant sauce.

[Poaching Sauce]
2 qt duck tongue poaching liquid
3 Tbsp cooking oil
5 Tbsp Chinese broad bean chili paste
2/3 cup fresh ginger, minced
2/3 cup fresh garlic, minced
1/2 cup sugar
1/3 cup light soy sauce
1/3 cup corn starch
1/3 cup water
2 Tbsp green onion, thinly sliced
1/3 cup ChinKian vinegar
1/3 cup sesame oil

METHOD
Combine corn starch and water, stir well, and make slurry. Sauté chili bean paste in warm oil until bright red. Add ginger and garlic and continue to cook until fragrant, but not brown. Add in soy sauce and sugar, then add the poaching liquid right after, bring to a simmer.
Add in cornstarch slurry, and simmer until sauce is thick. Add green onion into the sauce; cook for 1 minute.
Remove from the heat, add in vinegar and sesame oil, stir well. Sauce is finished.

[Silencio Taco]
1 soft corn tortilla
60 grams poached duck tongue (around 10 to 12 pieces)
1 tsp fragrant sauce
1 fresh lychee
4 green onion tops, julienned

ASSEMBLY
Peel off the shell of lychee, de-seed, and cut flesh into halves.
Warm tortilla and place duck tongues in tortilla, spooning 1 teaspoon of hot fragrant sauce over tongues.
Top with 2 lychee halves and garnish with green onion.

Inspiration for Executive Chefs