Inspiration for Executive Chefs


APPETIZERS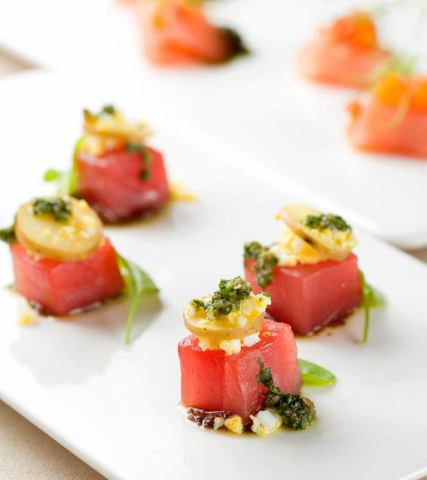 Striped Marlin Toro

Chef Marc Plessis

XIX Restaurant
Park Hyatt at The Bellevue
PHILADELPHIA, PENNSYLVANIA


Striped Marlin Toro, gooseberry salsa, cilantro, jalapeño, cumin sprouts

5 striped marlin, 1/8 inch slices
2 Tbsp gooseberry salsa (recipe follows)
1 Tbsp cilantro and roasted jalapeño sauce (recipe follows)
Fleur de sel
Cumin sprouts

1. Place some of the salsa to one end of the fish slices and fold over. Top each folds with additional salsa.
2. Arrange all the slices on a plate.
3. Top each fish with cumin sprouts and a couple of grains of fleur de sel.
4. Finish with small dollop of sauce next to each fish.

Gooseberry salsa
1/2 Cup gooseberries, small diced
2 Tbsp red onion, brunoise
2 Tbsp red finger chili pepper, brunoise
2 Tbsp extra virgin olive oil
2 Tbsp lime juice
1 tsp coriander, toasted and ground
1 tsp cumin, toasted and ground
Salt and pepper to taste

Mix all the ingredients in a bowl, reserve chilled.

Cilantro and roasted jalapeño sauce
2 cups cilantro leaved, packed
1/2 cup mint leaves
3 Jalapeño, roasted, peeled and seeded
1 Tbsp lime juice
3 oz extra virgin olive oil
Salt and pepper to taste

Combine all the ingredients in a blender. Blend smooth, reserve chilled.


Inspiration for Executive Chefs