FAVORITE RECIPES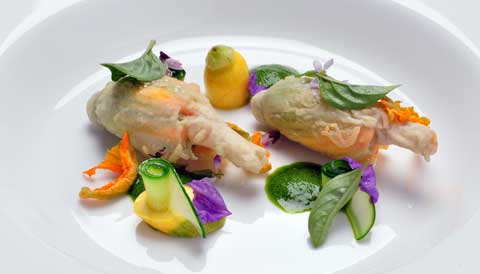 Squash Blossoms with Ricotta & Basil Pistou
Chef de Cuisine Aaron Martinez
1500 Ocean
CORONADO, CA



[Serves 6]

INGREDIENTS
Grapeseed oil, set to 350°F
6 squash blossoms, cleaned
1/2 cup fresh ricotta, drained overnight
1/4 cup grated parmesan cheese
1/4 cup basil, chiffonade
1 tsp garlic confit puree
1/2 lemon, zested
Salt to taste
Dredging mixture (buttermilk and Wondra Flour)

Fresh small basil leaves
Chive flowers
Radish flowers

METHOD
Mix all ingredients except squash blossoms until incorporated. Put stuffing into piping bag and fill the cleaned squash blossoms. Place squash blossoms in buttermilk to coat, then dredge in Wondra Flour mixture. Fry until golden brown and season with salt immediately when finished.

[Basil Pistou]
1 cup basil
1/2 clove garlic, blanched
1/4 cup olive oil
Lemon juice to taste
Salt to taste

METHOD
Put all ingredients in blender and puree until emulsified. Cool down immediately.

ASSEMBLY
Place teaspoons full of basil pistou on plate. Place freshly fried ricotta squash blossoms on top of pistou, not covering sauce completely. Garnish with fresh small basil leaves, chive flowers and radish flowers. Can accompany with slices of summer squash or available seasonal vegetable.

Inspiration for Executive Chefs