FAVORITE RECIPES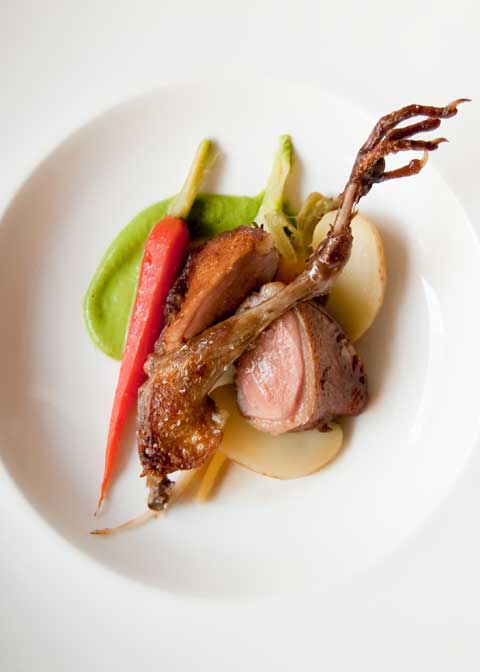 Squab with Pea Coulis
Co-Chefs Matt McNamara & Teague Moriarty
Sons & Daughters
SAN FRANCISCO, CA



INGREDIENTS [Squab]
1 Tbsp butter
1/4 cup chicken stock
Salt and pepper
8 cloves garlic, chopped
1 bunch thyme
4 squab legs
Duck fat
Roasted fingerling potatoes
Blanched baby carrots
[Pea coulis]
1/4 yellow onion, sliced
1 Tbsp butter
1 cup peas
1/4 cup tarragon
1 pinch baking soda
4 white peppercorns
1/4 cup cream
1/8 cup vegetable stock
1 pinch cayenne pepper
METHOD

Melt butter over moderate heat. Slowly cook onions in butter, once soft, add peas, baking soda salt and pepper, cover with stock and cook till done.
Remove from heat. Add tarragon, cayenne and cream and blend until smooth. Pass through chinois.

ASSEMBLY

Spread the pea puree on the plate and top with squab. Scatter potatoes and carrots around squab.
Inspiration for Executive Chefs