Inspiration for Executive Chefs


ENTREES
Seafood Toban Yaki
Executive Chef Gene Kato
Japonais
CHICAGO, ILLINOIS

(Serves 6)

3 Manila clams
2 medium shrimp
1 diver scallop
1 king crab
3 ounces shemeji mushrooms (rich-flavored oyster-like mushroom that grow in clumps)
1 ounce green onion
1 slice lemon
1 cup sake
2 tablespoons soy sauce
Salt and togarashi (Japanese spice blend with chile, orange peel, seaweed, ginger, poppy and sesame seeds), to taste

Combine all ingredients in a bowl and toss. Arrange in a clay dish and cover. Cook over high heat 5 minutes or until clams and scallops open and shrimp and crab turn pink.
Serve immediately, removing lid at table. Accompany with chilled sake, optional.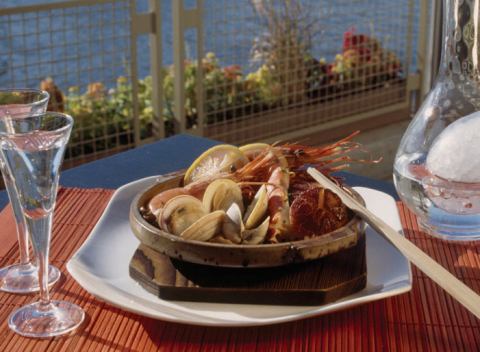 Inspiration for Executive Chefs