FAVORITE RECIPES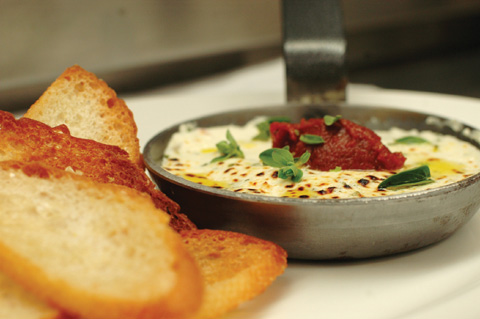 Orzo Mac N' Cheese
Executive Chef Scott Howard
Hotel Shattuck Plaza, FIVE
BERKELEY, CA

3 cups heavy cream
8 oz goat cheese
1 bunch chives
2 t salt
1 t pepper
2 cups orzo
1/2 cup bread crumbs
METHOD

Preheat oven to 425°F. Cook orzo in salted, boiling water for about ten minutes or until al dente. Strain orzo and place on a cookie sheet in a thin layer and slightly oil the orzo so that it doesn't stick together.
In another pot, gently heat cream over medium heat, whisking occasionally so that cream does not scorch. When cream is hot, whisk in goat cheese until fully melted and season with salt and pepper.
Combine orzo with cream and goat cheese mixture (the mac 'n' cheese should be slightly loose in consistency since it will thicken as it bakes in the oven). Add chives. Place in either individual-portion dishes or a casserole dish. Top with bread crumbs. Bake for about ten to fifteen minutes or until bread crumbs are golden brown.
Inspiration for Executive Chefs