Inspiration for Executive Chefs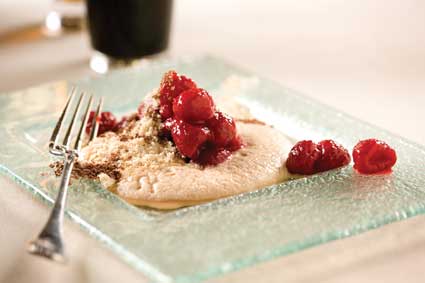 FAVORITE RECIPES
Macerated Raspberries with Sly Fox "O'Reilly Stout" Foam, Sesame Powder and Shaved Dark Chocolate
Pastry Chef Dan Pino
Nineteen (XIX) Cafe, bar and restaurant, The Park Hyatt
PHILADELPHIA, PA
(Serves 6)

Stout foam
5 gelatin leaves

2 1/2 cups milk
2 1/2 cups cream
1 cup sugar
2 1/2 cups stout
Bloom the gelatin in cold water. Combine the milk, cream, and the sugar together and heat to a simmer. Add the bloomed gelatin and stir until dissolved. Chill then add the stout. Pour mixture into an ISI canister whipped cream dispenser and let sit for 5 hours. After five hours charge the canister with 3 charges.
Macerated raspberries
2 pints raspberries
1 tablespoon sugar
Pinch salt (kosher)
Purée and strain 1 pint of raspberries with the sugar and salt.
Toss the second pint of raspberries with the purée.
Sesame powder:
4 cups tapioca maltodextrin
2 tablespoons tahini paste
Combine both ingredients in a food processor. Mix until
well incorporated.
Grated chocolate
8-ounce block chocolate 73%
Grate chocolate on a box grater to garnish. Serve as shown.
Inspiration for Executive Chefs