APPETIZERS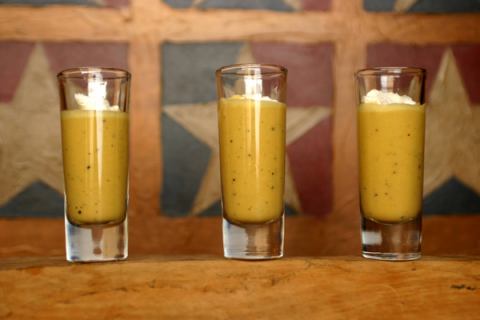 Foie Gras Shooter with Cookie

Chef Tim Love

Lonesome Dove


Serves 12

Ingredients for the Shooter
1 pound foie gras, cleaned and sliced to 1/2 inch thickness
1 1/2 cups freshly squeezed orange juice, strained of pulp
3/4 cup fresh ground coffee
1/4 cup Lonesome Dove BBQ game rub (see below)
kosher salt
cracked black pepper
sweet cream

Ingredients for the Cookie
1 cup flour
8 oz. sugar
4 oz. foie gras
4 oz. butter

Method for the Shooter
1. Place foie gras on a baking sheet and season with salt and pepper, then lightly with game rub.
2. Roast foie gras at 375 degrees in a convection oven until slices have rendered the fat.
3. Reserve all fat and keep at room temperature in a sauce pan.
4. Mix orange juice and coffee in a sauce pan and reduce by 2/3.
5. Warm liquid foie gras and add hot o.j. reduction.
6. Blend with a high speed stick blender.
7. Season with salt if needed.
8. Pour into shot glasses 3/4 full.
9. Top with sweet cream and foie gras cookie
10. Serve hot!!!


Method for cookie
Hand mix all ingredients, being careful to not over-work the dough. Wrap dough and place in refrigerator for 1 hour or so. Roll out dough 1/4 inch thick and, using a cookie cutter, make petite squares or circles. Bake in oven at 350 degrees until slightly brown, about 20 minutes.

Inspiration for Executive Chefs