APPETIZERS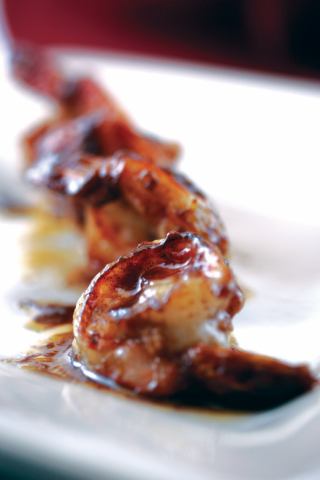 Crispy Pan Fried Shrimp with Tamarind Glaze

Reprinted from MODERN INDIAN COOKING by Hari Nayak and Vikas Khanna, Silverback Books, Inc.


SERVES 6

1 pound medium size fresh shrimp, cleaned, shelled, and de-veined
1 teaspoon ginger, minced
4 teaspoons garlic, minced
1 teaspoon ground cumin
1 tablespoon tamarind paste
1 teaspoon cayenne pepper
1/2 teaspoon turmeric powder
1 tablespoon all purpose flour
Salt to taste
1/4 cup vegetable oil
Juice of 1 lemon
2 tablespoons Thai basil, chopped


Using a clean kitchen towel, pat dry the shrimp and set aside. Mix ginger and garlic with cumin powder. Add tamarind paste, cayenne pepper, turmeric powder, flour, and salt. Blend 2 tablespoons of oil into the mixture. Transfer to a bowl, add the shrimp, and toss well to coat evenly, cover and refrigerate for about 2 hours for best results.

Heat the remaining oil in a large saucepan over medium heat. Add the marinated shrimp and cook for a minute on high heat. Turn over the shrimp and cook for another minute. Reduce the heat and cook for 2 to 3 minutes, turning the shrimp occasionally for uniform cooking. Sprinkle lemon juice and Thai basil and serve hot.


Inspiration for Executive Chefs