FAVORITE RECIPES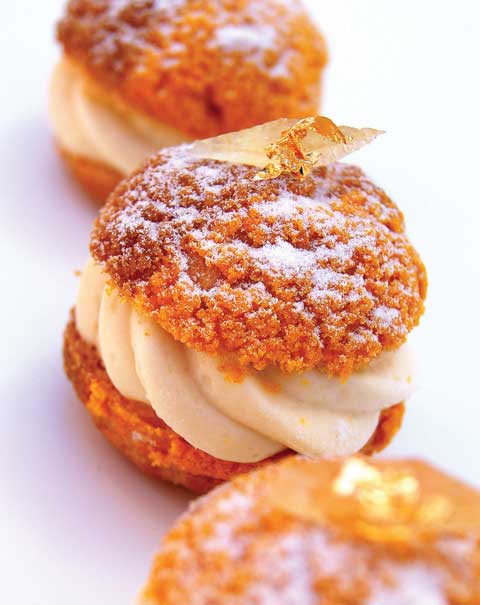 Choux Crema Catalana
Executive Pastry Chef Nathaniel Reid
St. Regis Resort Hotel & Spa, Monarch Beach
DANA POINT, CA



INGREDIENTS

[Pâte à choux]
12 3/4 oz water
12 3/4 oz milk
12 oz butter
1/4 oz salt
1/2 oz sugar
17 1/4 oz flour
26 1/2 oz eggs
METHOD

Classic preparation: pipe and place disk of brown sugar crust on top, bake as normal.
INGREDIENTS

[Brown sugar crust]
7 oz brown sugar
7 oz butter
7 oz flour
METHOD

Cream butter and sugar together. Next, add flour and sheet to 2 millimeters thick.

INGREDIENTS

[Crema Catalana]
16 oz milk
1/5 oz lemon zest
1/5 oz orange zest
1 cinnamon stick
1/2 oz corn starch
3 2/3 oz egg yolks
Sugar to taste
METHOD

Infuse milk with zests and cinnamon for one hour. Strain milk and make similar to pastry cream. Cool and put sugar on cream and caramelize.
INGREDIENTS

[Catalana mousse]
17 2/3 g Crema Catalana
1/5 g gelatin
14 g whipped cream
METHOD

Blend caramelized cream in mixer and add gelatin. Fold in whipped cream.
INGREDIENTS

[Lemon confit]
8 3/4 oz lemon
8 3/4 oz sugar
METHOD

Blanch lemons for one hour. Cook with sugar to confit.

INGREDIENTS

[Caramel sauce]
8 3/4 oz sugar
1 1/3 oz glucose
Pinch of salt
10 1/2 oz cream
METHOD

Caramelize sugar and glucose. Deglaze with salt and cream.
ASSEMBLY

Halve pâte à choux. Place lemon confit in bottom. Pipe Catalana Mousse on top, leaving a space in the middle. Place caramel sauce in the empty space. Place other half of choux back on top.
Inspiration for Executive Chefs