APPETIZERS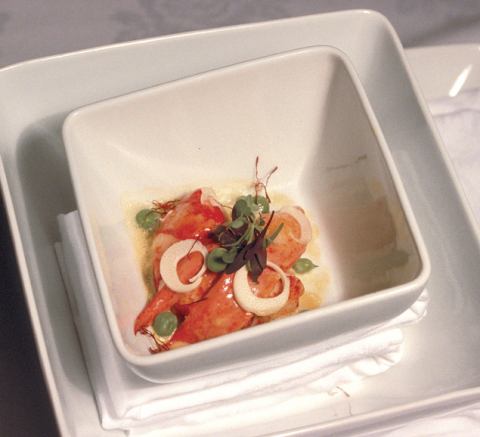 Butter Poached Maine Lobster

Executive Chef Sean Brock

The Hermitage Hotel
Nashville

Butter Poached Maine Lobster with orzo, English peas,
hearts of palm, and saffron lobster emulsion
(Serves 2)

1 gallon vegetable stock
2 ?chic? lobsters (1 1/4 pounds)
1 pound soft butter

Heat vegetable stock in a medium sized pot until it simmers. Pour water over lobsters and allow to steep. When lobster are cool enough to handle take out of the shell (save the shells) and portion for four people. In a large mixing bowl heat one tablespoon of water. When water steams add butter slowly one piece at a time, until all the butter is emulsified. Finish cooking the lobster in the emulsified butter (beurre monte).



Saffron Lobster Emulsion

Reserved shells
1 onion
1 carrot
2 ribs of celery
I tomato chopped
1/2 cup cognac
1 bay leaf
1 tsp saffron
1/2 cup heavy cream

In a large stock pot over very high heat add the lobster shells and sear until bright red. Deglaze with cognac. Add mirepoix (onion, carrot and celery) and tomato. Cover shells with water and add bay leaf and saffron. Allow to reduce by half and add cream. Reduce by half, strain and emulsify with a hand held blender.

Serve with hearts of palm.



Inspiration for Executive Chefs