APPETIZERS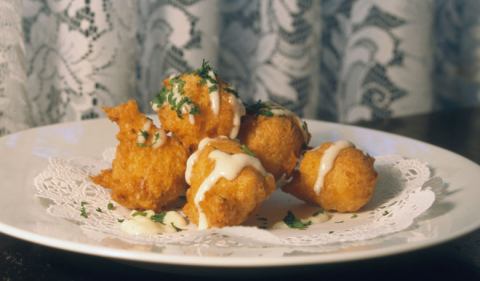 Brandade Fritters

Chef Rob Larman

La Poste
Sonoma


Salt cod fritters

1 pound skinless boneless salt cod
2 boiling potatoes peeled and diced
5-6 cloves garlic minced
1/3 cup extra virgin olive oil
0ne recipe pate a choux (recipe follows)
4 cups peanut oil for frying

Soak the salt cod in cold water any where from 6 hours to overnight depending on how strong you like the brandade and depending on the saltiness of the fish. Change the water at least 3 times during the soaking.
Place the potatoes in a small pot and cook until soft.
Rinse the cod and place in a skillet cover with cold water and bring to a simmer. Remove from the heat, cover and let stand for 15 minutes.
Place the drained cod in a food processor add the garlic and the drained potato and puree.
Heat the olive oil to hot but not smoking and add to the processing salt cod mixture
Mix salt cod mixture into pate a choux mixture until combined and refrigerate
In a 6-cup pot, heat the peanut oil to 350°. Using 2 spoons, shape the batter into balls and carefully drop into the hot oil. Cook for about 5 minutes until golden brown
Drain and serve with lemon aioli and chopped parsley.

Pate a Choux
2 cups water
1/2 pound butter
2 cups flour
Pinch of salt
7-8 eggs

Heat the water and butter in a heavy saucepot until boiling.
Using a wooden spoon add the flour and salt. Mix rapidly until dough is smooth; reduce heat and continue to mix for another 2 minutes.
Either place dough in a small mixer at this point or continue by hand beating in one egg at a time, mixing rapidly until the egg is totally incorporated before adding the next egg.



Inspiration for Executive Chefs