APPETIZERS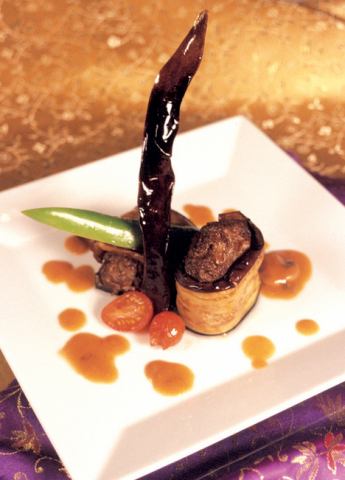 Beykoz Kofte

Executive Chef Mehmet Yalçinkaya
Mosaic, Eresin Crown


Köftes come in all shapes and sizes but always contain finely minced meat mixed with spices, onions and other ingredients.
(Serves 1)
100 grams (3 ounces) ground beef
¼ onion, finely diced
5 grams (1 teaspoon) each black pepper, salt and cumin
5 grams (1 teaspoon) allspice
10 grams (2 teaspoons) olive oil
1 eggplant
5 grams (1 teaspoon) flour
4 medium mushrooms
10 grams (2 teaspoons) tomato paste
2 cherry tomatoes
1 Anaheim chili

Place beef, onion, and spices in mixing bowl. Mix and shape into oval shaped 2-ounce patties. Add half of the olive oil to sauté pan. Saute patties until golden brown over medium heat on both sides. Remove and place in oven for 10 minutes.
Slice eggplant lengthwise into ¼- inch slices. Saute until brown in same pan. Remove and drain on absorbent paper. Set aside.
In a separate pan add olive oil, flour and mushrooms and saute for 5 minutes. Add 1 cup water and tomato paste. Simmer for 20 minutes.
Wrap patties in eggplant slices. Place on serving plate. Drizzle with sauce. Garnish with cherry tomatoes and Anaheim chili.


Inspiration for Executive Chefs